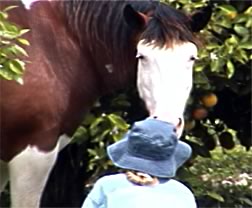 Schedule Your Personal Tour Now
Since we only have Nunki now, we are not doing regular tours but you can still arrange to visit – Nunki will love it!

• $35.00 per person, in your own vehicle
•We will guide you from Marsh Harbour or Treasure Cay
•Some walking usually needed to reach the horses.
•Spend as much time as you like
•Hike the old logging roads and our lovely fenceline trail.
•Bird watching is great .
•Bring lunch and swim in the serene Blue Hole
•Group rates available for School and Church groups,
transportation of groups available.
242-367- 4805
Visitors' comments:
"This has been an awesome day! So amazing to be with . . . wild horses! Thanks!"
"Never thought we would be able to get so close to the horses! What an experience!"
"Five stars and three cheers for . . . the Wild Horses of Abaco. It felt like a step back in time. The dogs were awesome, so healthy and happy and the wild horses were an inspiration. It was a truly remarkable adventure. Thank you for sharing your passion with me. Blue Hole was pure magic and feel blessed indeed."
"Another fabulous adventure, remarkable in every way. The horses were unbelievable — a history we were so incredibly lucky to share. The whole day, horses, blue holes, black holes and towers are a must to see "
"Seeing the wild horses was wonderful, looking very healthy and content. Preserve is very nice, needs to stay that way. Would come back to see them anytime."
"This is an awesome day. It was an adventure to me."
"Today was an experience I will always remember. The horses are great."
" . . . today was just breath taking I cannot believe that these horses have been here so long . . . such an unforgettable day . . . a dream come true."
"I simply cannot find the words to describe how breathtakingly awesome the horses are. The bush, the overlook of the farm, and your sweet pups. We are so looking forward to our next visit."
"Thank you for a wonderful visit to see the wild horses. We . . . love seeing the horses in their natural habitat . . . and will come back when we visit Abaco again."
"Thank you for a once in a lifetime chance to meet . . . such wonderful specimens of history! After seeing the horses lunch by the Blue Hole was great."
"We feel we understand more now what would be lost if the horses are allowed to become extinct."
"As a horse lover, and someone who works in the thoroughbred industry I'm a bit emotionally overwhelmed right now, I am stunned at the majesty, the beauty, the staunch resolve of these magnificent animals."
"What a wonderful experience to see these beautiful, gentle, kind horses."
"We have learned a tremendous amount about Abaco, the Bahamas, as well as the wild horses. We'll take back wonderful memories that will stay with us always."
" . . . the beauty of the horses' majesty made a difference to every aspect I thought made Abaco. I love the simplicity and lovely gentle form of the horse's beauty. They made me feel peace, if only for an hour . . . it's a soul lifting experience!"
"What an experience — it's just wonderful. You know peace in this place. The horses are beautiful and so friendly! I look forward to more visits. The Blue Hole is so perfect for lunch too. The best I've seen in Abaco, highly recommended . . ."
"It's hard to find words to describe the horses and the land — magical! To be in the midst of such beautiful creatures and knowing their history is a privilege. Walking amongst the horses on their terrain was such a peaceful, beautiful experience . . . "
"I look forward to coming here for many summers."
"Awesome history behind these horses – I feel privileged to have shared a moment with them."
"This was a wonderful experience! Getting to see such beautiful horses in their natural, wild habitat is such a treasure. It would be a shame for our children to not have this same experience."