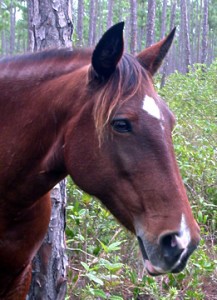 Nunki, poor Nunki.  Her last real friend, Bellatrix II, died from eating lantana sage. She has lost all of her closest relationships.
Nunki had a filly, Spica, at the same time Bellatrix II was born to Adhara.  Spica and Bella were very close.  Spica died in 1997with lumps all over her body and the cause of her death remains
A funny adventure occurred one morning.  The mares were not at the base for their grain. Sometimes this happens.  Milanne took the truck, found Acamar and Alnitak about half a mile away and made them follow her back to the base so she could get them into the open dogs' pen for grass and amaranth that's re-grown since their last meal down there.
Milanne went back to look for Nunki since she does wander off.  The mare was located in the same general area as Acamar and Alnitak.  Nunki tried blocking the truck as Milanne attempted to back out in a place with little backing room.  She wanted to eat.  Now. Milanne got ahead of her, but Nunki didn't like that, found a hole in the bush, shoved past, threw a kick at the truck but didn't connect.  When Milanne didn't stop Nunki executed a very nice buck.  Eventually with consistent pushing, Nunki was driven into the pen and everyone ended up very happy with the day's menu of grain, then grass and a lot of fresh amaranth.
Nunki remains an easy keeper and enjoys a lot of contact.