When we finally were able to return to Abaco in early December we found that all the fillies were present and reasonably healthy despite their overweight and poor hooves.
We did not see Aldebaran, and though we have not yet found any bones, there are indeed only 16 Abaco Wild Horses left.
Aldebaran lost his mare, Atria, to infected hooves last March.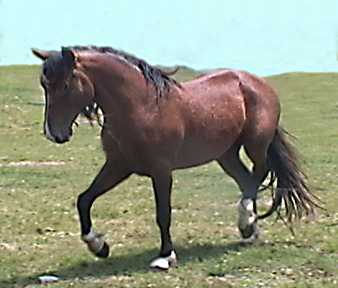 He remained hidden for several weeks after her loss, but gradually started to come closer and closer to Mimosa's band. The photo above was taken during one of his early attacks on Mimosa as Aldebaran tried to win another mare for himself.

The only observation concerning his death came to us third hand, apparently some of the farm workers had seen a 'sick' horse on a Friday, but no one remembered if it was in September or October. By the following Monday the sick horse was dead. The remains were in an area where both Mimosa's band and Altair's band tend to forage in the mornings.

Unfortunately, the area was mowed with an enormous chopper after the bones had dried, and dogs carried off anything that remained. So there is no way to tell why Aldebaran died, but it would probably be safe to consider that he might have died of internal injuries after a fight. While not as large as Mimosa or Altair, he was of a good size and any fight he picked would have been serious.