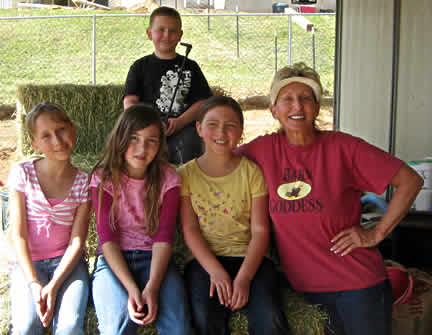 Left to right, Meagan, Holly, Miles, Emily and Terry.
Terry Rollings puts in intense days as riding instructor at her barn in Calfornia. She and her students have 'adopted' our whole small herd and her enthusiasm has spread to the kids who are working on recycling ink cartridges and spreading the word. Here's how Terry does it:
"Hi Everyone,
I am sending a HUGE THANK YOU TO ALL for your generous donations of cans, bottles, and plastics. This month, we raised 68.00 + allowance donation from Miles for a total of 72.00!!!!!
I am working on a recycle of printer cartridges as well. So, if you have any old ones or your getting ready to replace with a new one, please feel free to drop those off as well. I know with all your support, we will make a difference for these beautiful horses.

With Spring Break just around the corner, I would like to have a "barn day" for those of you who might be interested. One of the activities could be using our pictures and creating some posters/flyers for advertising in feed stores, etc. What do you guys think?
Keep up the good work."