Back in March, 2002 Pam and John Mitchell of Marsh Harbour, Abacco brought two guests, Jean and Tina Royce to the farm and spent a total of 15 person hours preparing and painting the fence sections of our portable corral.

The corral only had primer on it and was starting to show serious rust. Jim did the rust removal and wore out a wire brush in the procees. Pam, Jean and Tina assisted Mimi Rehor in applying paint, a thick coat of Rustoleum.

All but two of the fence sections were done and Rehor was able to finish those on subsequent trips to the farm. She's still in the process of painting the trailer, but the arrival of the rainy season has slowed this down. Unfortunately, several of the large wood planks that make up the floor and sides of the trailer have rotted through. Rehor hopes to replace these planks with pressure treated wood as soon as possible.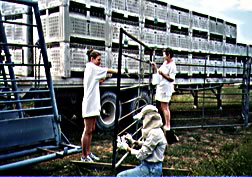 Tina (l.) And Jean (r.) Royce help Mimi Rehor (foreground) paint the fence sections for the
portable corral.
Below, Jim Mitchell wields the wire brush.