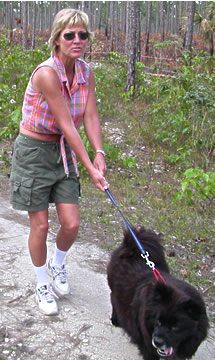 Sue, running on the Preserve with Ursi, a chow mix who is one of 11 rescued Abaco dogs who have their own compound on the Wild Horse Preserve


And Sue's friends rallied; in late April Dr. Sue Babb arrived in Marsh Harbour, Abaco and presented the Wild Horses of Abaco with $1,000.00. Donations came to $500 and Sue matched that amount to make the $1,000.00. What a great fundraising idea!
The Wild Horses of Abaco would like to thank the following people for their concern and generosity:
Mandy and Tom
Holly Howard
Light House Hospice
Sue Steakley
Geri Pittman
Diane Burghart
Tanya Holmes
Brian M. Richardson
Selena Brittany & Olivia Foster
Houston Airport Rangers
David and Paula Poynor, a memorial donation for Colt Toby
Brad Weber

There were many, many more who gave their dollars to help the horses and we are grateful to all of you.
.