Barefoot Man and and his wife Regina make their home on Grand Cayman Island. They visited Abaco's Wild Horses while here to give a concert at Nipper's Beach Bar and Grill. Regina is an active horsewoman and Barefoot Man has written many songs about horses. Be sure to visit
BareFoot Man
and
Nippers
.
Not long after their visit, Barefoot Man wrote to me about a wonderful coincidence: "I note on your web site you mention the illustrator Wesley Dennis and his book Jingo –Wild Horses of Abaco…his son Reid Dennis is one of my closest friends here in Cayman…"
We're hoping Barefoot Man and Regina will visit the horses again when they return next spring for their next concert.
Jean and I did a three hour tractor ride around the field where Hadar and Achernar tend to stay. We saw them both, but no sign of Capella or the mystery horse. Rainfall has been abundant and in many places the grasses were nearly over our heads even as we rode on the tractor. The paths and trails we followed in the spring are completely overgrown.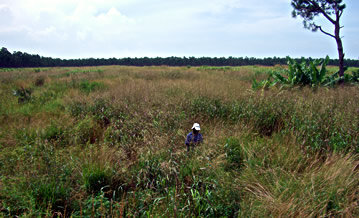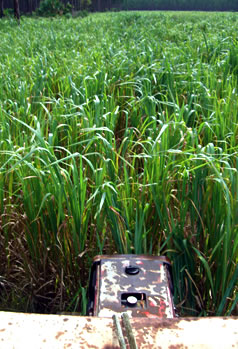 In the photo at right, notice that I'm sitting on TOP of the tractor's sun roof, nearly 12 feet off the ground. Often the grasses brushed the roof. Some shrubs grew above it. Not long after this, I located a plush bucket seat in a car wreck and am installing it on the sun roof. See video:
We are developing a photo collection and ID's of everything the horses eat, sometimes only in tiny amounts,. We haven't opened up a new mini pasture since before Hanna. The horses are doing well on the lush forest growth and are getting plenty of exercise. As things dry out and growth slows we will open new mini pastures.

Most of the month was spent keeping the fence line clear and checking the fence for wear and tear.