On Friday afternoon, April 24, fire burned the Preserve again. The original fire had split and was blazing both on the farm and in the Conservation Area. During wind shifts both fronts turned and came into areas of the Preserve that we had saved before.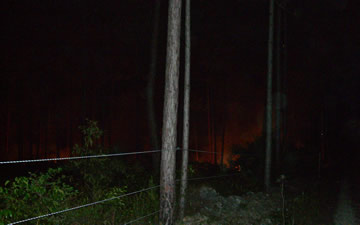 There was little we could do as the fire kept coming . . .
What followed was a grinding marathon in which Avener worked for 30 hours straight and Jean and I put in 55 hours each with only about three hours each for brief naps. Friday night we worked through the night pulling fence. Then we decided to drop back and prepare a yet another fire break in the Preserve as we retreated. The moon was not up and we used flashlights to guide the weed whackers and blower. Yet later that night the fire jumped in from still another direction above the fire break so the work was useless.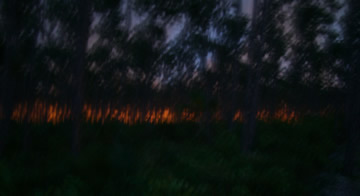 It seemed to fill the whole Southern horizon . . .
Three of us worked two fire fronts through Saturday and Saturday night, dropping back constantly as we retreated toward the base. We had to keep the bigger fire from jumping out of the stallion area into the Preserve again. While doing this we made at least four defensive moves cutting new breaks to keep the farm fire off the Preserve.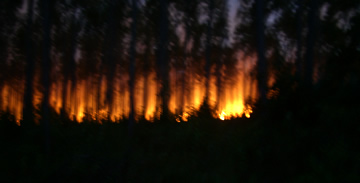 At times the tension was almost unbearable . . .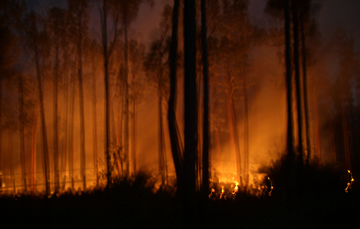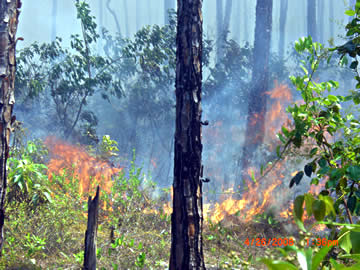 In the light of day the eerie glow died but the heat was worse and
the glowing sparks turned to flying ash.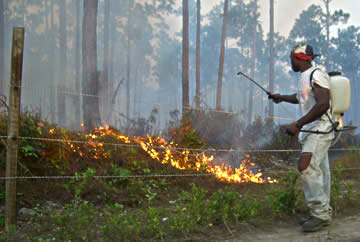 By Sunday morning, the chill of the night and the edge of the road slowed things down and it seemed that both fronts finally had been stopped. Miles of smoldering trees filled the area with smoke.

Both men deserve medals for their courage, endurance and incredible spirit. At four a.m. Sunday morning, all of us not too steady on our feet and ready to drop from exhaustion and smoke inhalation, they were singing in harmony and joking as we worked.