The unit began with our Stroberg Porta Corral Trailer. It was wire brushed, sanded, painted and new floor planks installed.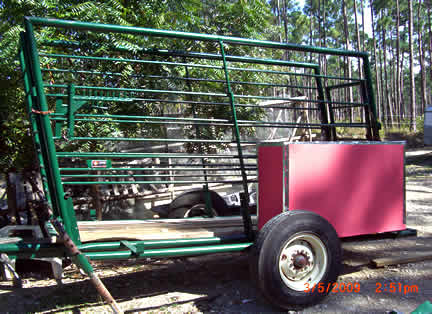 The water pump box was built and a second box built for the other side to hold hoses, tools, gas, oil, snacks, drinking water, etc.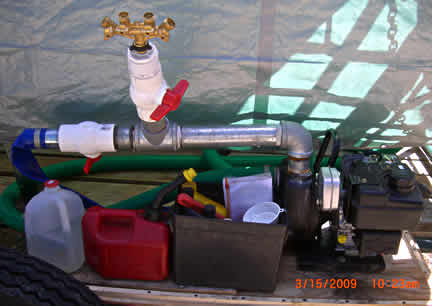 A four valve manifold was mounted in the discharge line. One to four hoses can be deployed while the discharge line recycles overflow into whichever water tank is being used. We can pump from the tanks or from a well if there is one nearby. We use our onsite well to fill the tanks.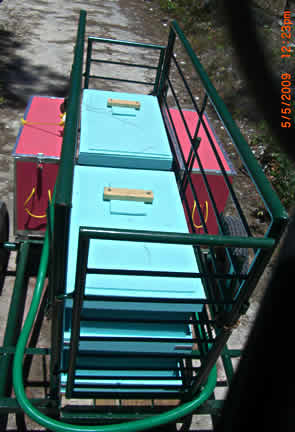 View from the tractor roof seat.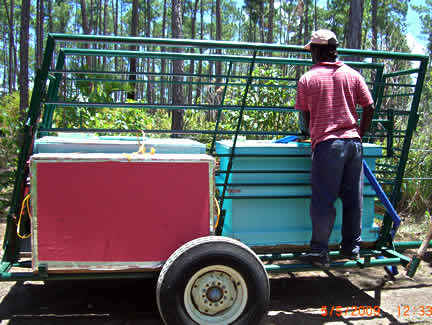 Jean is filling the tanks from our well. The tanks are about 100 gallons each, each can be filled in four minutes. The tanks are made of plywood coated with epoxy.We carry water to our base where we filter it for drinking, use it for showering, watering the dogs, doing laundry and keeping some crop plants growing through dry spells.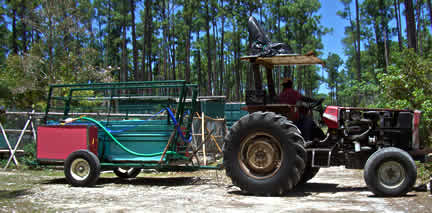 I pulled a driver's seat out of an auto wreck and mounted it on the tractor's sunshade. It gives a great view of fire fronts and allows very accurate deployment of water. The tractor is a 1985 Massey Fergusson. She is much in need of cosmetics but runs like a dream. We call her
"Old Messy."