Abaco Outboard Engines, Ltd. of Marsh Harbour, Abaco donated a brand new Yamaha Sigma E motorcycle to the Abaco Wild Horse Fund in January. Simon Bethell, President of AOE, had been watching Milanne (Mimi) Rehor, (President of the Abaco Wild Horse Fund) struggle in and out of his shop with a series of fairly hopeless two wheeled vehicles and decided to put the AWHF on some sure footing.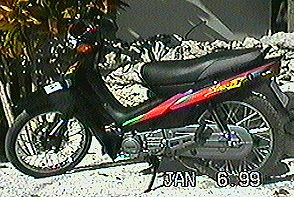 AOE is the first major business establishment in Abaco to come out in full support of AWHF. The motorcycle will be used to travel to and from the Treasure Cay area where the horses live to help Rehor maintain a close watch on the herd and its health. A motorcycle is the perfect vehicle of the AWHF at this time since it is inexpensive to maintain and run but can provide solid transport at good speeds. The motorcycle has been equipped with a sign explaining its origins and purpose.

The motorcycle has been named "Dandy" after a pony owned in her childhood by the late Owanta Gottlieb. Mrs. Gottlieb was an almost legendary figure in Abaco. She and her husband, the late Dr. Ejnar Gottlieb, came to the Bahamas during WW II and established a health clinic in Marsh Harbour. Mrs. gottlieb, when she wasn't busy being midwife and assistant to her husband's practise did her best to better the lives of animals on Abaco. She worked to improve the lot of captured wild horses and was a tireless campaigner for environmental awareness. Her efforts are missed, but not forgotten.