On July 8, despite grey weather (but it was cool!) members of the class of 2012 from the J. A. Pinder Primary School in Sandy Point visited the horses.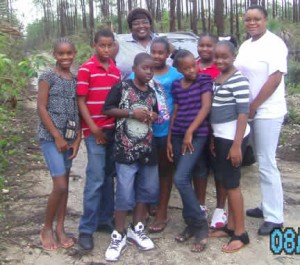 Ireanna Burrows…….black pockadot shirt
Elian Bain…………red stripe shirt
Mrs. Brenell Higgs Clarke, Principal
Dsvsno Thurston…….black shirt
Kajah Pinder……….aqua shirt
Stephanie Cartwright..purple and black shirt
Tatyana Burrows…….red shirt
Alisha Greene………grey and white shirt
Ms. Javal Thompson….white shirt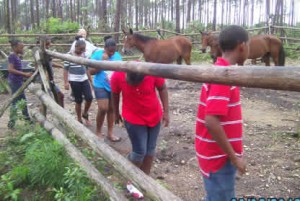 The class goes into the mare's corral for an introduction, and then the students followed the mares out into the forest.