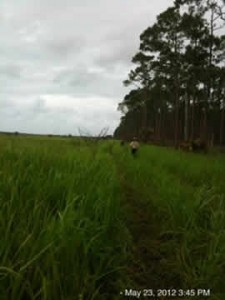 On Wednesday, May 23, under still grey and sodden skies, Dr. Fritz and I set out on the third attempt to bring Hadar home. I met Dr. Fritz at the Abaco Beach Resort with the Nissan pick up (with over 250,000 miles on the odometer) and at the bookshop he took the Nissan, I took the Rover.
Dr. Fritz headed to the airport to meet the 11:30 arrival of a benefactor who has become a most involved supporter of the Wild Horses Of Abaco.  His colleague, an equine veterinarian, was in constant telephone contact with him as the adventure unfolded.
Our benefactor had flown all the way from New Jersey to help with Hadar's capture, he intended to leave on Thursday. What amazing generosity, two thousand miles for a shot at Hadar. Our benefactor also is an expert marksman, with the ability to peg a target at 1000 meters.  Think of it, 3,260 feet, over half  a mile. And he's done this throughout the African veldt.
I set out, the first time ever driving a right hand drive vehicle about the size of a Star Wars Earth Walker with no shock absorbers and fragile steering.  We reached the Preserve in one piece and I set out supplies, got everything ready for transfer to the pick up and then started to try to make some improvements in the dart rifle.  I went stiff with tension when Dr. Fritz and our benefactor arrived an hour early! And the rifle hadn't been improved much, if at all.
Both Dr. Fritz and our benefactor were incredibly patient and I finally stopped rattling.  A quick explanation of the rifle and its peculiarities and how the darts worked was sufficient for our benefactor  to take a few practice shots at a small wet suit  rolled up and placed on a hill at about the normal range for reaching Hadar. Then we set out.
Jean drove the tractor, setting the pace.  Dr. Fritz and our benefactor followed with the supplies in the Nissan and I followed in the Rover to act as closer of gates and to fetch the front end loader when we had Hadar down at last.
The forest road that abutted Hadar's favorite field was our rendezvous point as before.  All was made ready and our benefactor  sat up on the tractor behind Jean on some cushions on the metal frame.  After my fall a year ago, Nobody rides on the fenders!
Then Dr. Fritz and I settled down to wait for 15 minute progress reports via VHF radio.  We had a good high spot, though we couldn't see to the far edges of the field.
The first call came in, nothing.  More waiting, and waiting some more.  Maybe he wasn't there.
Then,   "We see him!" from Jean. And more waiting.  Then our benefactor's voice came back, he had fired but didn't get Hadar and no wonder, we later found that the rifle was failing.
More waiting and our benefactor continued to stalk Hadar, crawling through the sodden grass as I had, using every bit of cover available.  He noted later that this was the first time he stalked something through high grass and wasn't concerned about something stalking him!
Suddenly, "We got him!"  Dr. Fritz calmly said to wait about 15 minutes or more for the shot to take effect, Hadar started to wobble in five minutes.  I ran for the Rover and that great vehicle made the best time I've ever done over the lumpy forest roads and the main dirt road.
Shaking with the need for speed, I stopped at the security gate and asked for Ron Simmons, the man on the front end loader.  "Oh, he's not here, he's in the US."  No! No! No! My heart headed for the dirt.  Someone yelled from the main office.  It was Ron.  He got the loader running in moments and I drove ahead, opened our gate and waved him on. Now my heart was slamming around in my throat.  I'm not sure Rover and I even touched the ground as we followed.
The loader stopped long enough to take on the mattress and extra padding and they sped out into the field.
Jean had come back for Dr. Fritz with the tractor to go back to our benefactor  and Hadar.  I waited alone. After nearly forever, I spotted the loader at the farthest east end of the field, moving slowly.  I was sure they had him.  After another forever, the loader and the tractor stopped, not far from the rendezvous road.  No Hadar aboard. What on earth was going on??
It turned out that despite our best efforts, it took longer than anticipated for the loader to get on scene.  And with a speed incredible in such an old horse, Hadar shook off the tranquilizer ahead of schedule and headed for the forest.  Our benefactor  got around him, headed him back out into the field and started to move him towards the rendezvous point.  Unless you've been out there, you  can't imagine what that took after an already long stalk: watching Hadar, watching out for hidden well heads, moving through grass, burned brush,  rocks, vines, urging Hadar along. An appalling journey. Dr. Fritz came back and we loaded more darts.  Hadar was so close.
Taking the fresh darts, our benefactor disappeared into the grass again. More time passed, then, with a calm voice that couldn't hide disappointment, our benefactor said the gun had failed even more and couldn't send the darts far enough. The constant pressure of letting more air into the gun had made the compressed air leakage worse. Hadar took off again.
We could have been angry, sad, disappointed, but we were not.  We all realized, as our benefactor put it "We know we can get him."  There are two prerequisites, repair of the air rifle and better communication with the front end loader.  We are so used to instant communication.  Out here, there are no cell phones, no regular phones and because of the terrain VHF is intermittent at best.  The next time we go, I will go for the front end loader the instant Hadar is sighted.
Wearily we made our way back to Marsh Harbour, glad to know that the mission is not impossible.  And, we do have to get Hadar in, even if not for the mares.  He is in great need of dental work, and supplemental feed to help him fill out once his teeth are improved.
Sitting under the awning at the Tiki Bar at the Abaco Beach Resort, as yet more rain came down and Dr. Fritz and our benefactor had a snack before they bashed their way back  across the squally Sea of Abaco to Hopetown, I thought about what an amazing evolution this has been from day one. I cannot think of another place where once can be sitting at a seaside resort after days spent literally in the bush chasing a wild stallion, feeling so very humble and grateful that such wonderful people have rallied to help the horses.  Our benefactor , Dr. Fritz, Jean, Ron from the farm, and Paul Baker who is the administrator of the farm and who has lent his men and equipment.  There is great strength here, and determination, and Hadar will come home.